As stated in a previous post, not every Civil War veteran received a pension. So, how do you determine if a pension application was filed by or in the name of your ancestor? As the number of pensions grew, the U.S. Pension Office began creating a series of file cards to search for pensions. There were three card indices that the Pension Office maintained: the Numerical Index, the General (alphabetical) Index, and the Organizational Index. All three series of cards have been microfilmed at the National Archives in Washington on 16mm microfilm.
Numerical Index
For all practical purposes, the numerical file is only useful when you are verifying the correctness of a file number. Trying to find a pension record by file number is like finding the needle in the proverbial haystack. If you are interested, the microfilm publication for the numerical file is A1158 and there are 359 rolls of film. These films can neither be rented nor purchased and may only be viewed at the National Archives.
The General Index (Alphabetical Index)
Most people will turn to the alphabetical index and search for their ancestor's name. All John Smiths are listed before all John A. Smiths, John B. Smiths, and etc. These are itemized under the film series T288 and consist of 544 rolls.
Officially called the General Index, these alphabetical listings include pensions for service in the Civil War, post Civil War Indian Wars, Spanish American War, the Philippine Insurrection, and the Boxer Rebellion. So even if a relative received a pension for service in a later conflict, it will be also found in the General Index. Typically, there will be one card for soldier; however, I have seen two instances where there were two unique pension file cards for an individual.
This can happen when a soldier's file was rejected and a later widow's pension was granted without the two files being consolidated. One of the situations was a soldier discharged for wounds incurred in service in one unit. He filed an application for a war time pension that was ultimately rejected. At a later date, the pensioner reenlisted in another unit.
When widows were allowed to file under the Act of 1890, his wife filed a claim based on his service in the second unit – there is no mention of his previous service in the claim. This gives the appearance that the widow was not aware of his original service. These two files treated this man's service as occurring by two different individuals. The situations where two or more cards exist for one person are rare.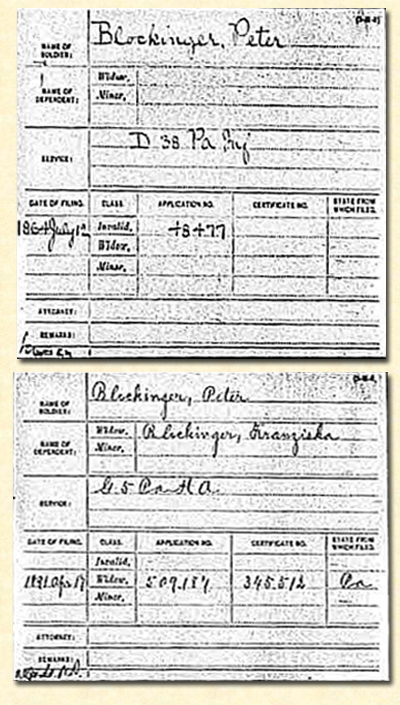 Peter Blockinger's Two Files
The General Index cards will generally include the following:
The soldier's and all applicant's names and the name of the guardian in the event of a dependent child claim.
An alias, if the soldier had one.
Index numbers for all applications and granted pension certificates
The soldier's or marine's unit(s) or sailor's vessel
Date of original application filing(s)
Some cards, but very few, have rank information
The complete General Index or alphabetical file is searchable through
Ancestry.com's
web site. If you know a pension file exists, but cannot be found on Ancestry, it may suffer from the same issues as all transcribed records entered into an electronic database. These problems can be related to the original record or with the database entry. The name on the original record may be spelled as the soldier or family member spelled it at the time of the application and not later in time (or for that matter earlier). For example, the name may be listed as "Schoeller" when the family may have changed it be more phonetically accurate in English as "Shaler."
Transcription errors are also a possibility. The individual entering the names into the electronic database may not be able to correctly identify a particular letter (i.e., an "e" mistaken for an "I" or an "a" being mistaken for an "o"). For years I thought a soldier's name was Phillip Laupers as his card and pension file seemed to indicate this. It was not until I saw his name listed in a book as Laupus did I realize my mistake.
The Organizational Index
If you are looking at doing a comprehensive look at a unit, these microfilms document pensions that based upon the unit(s) or ship to which the individual was officially attached. A soldier will have as many cards as units as he has served. Each card will list all of his organizations that were documented by the pension applicant.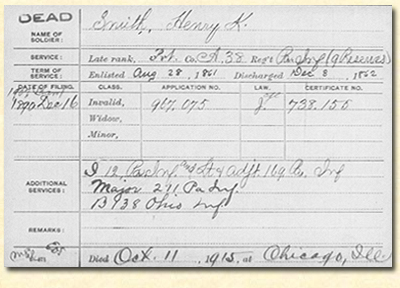 Henry K. Smith's card documenting his five units in the Civil War
If the applicant did not indicate additional service on the pension application, cards will not be on file for these unidentified units.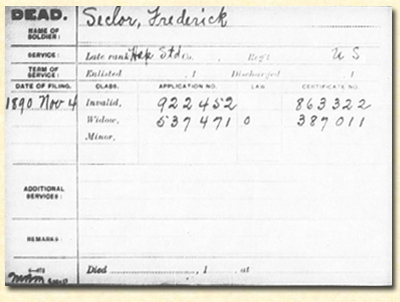 Frederick Seclor did not enumerate his service in three Civil War units
Typically the organizational cards will have the following:
The soldier's name and aliases (dependents' names are not listed)
Units/Ships (the card for a specific unit will be listed as the primary unit)
Index numbers for all applications and granted pension certificates
Date of original application filing(s)
Rank information may be listed
Enlistment and discharge information may be listed
Date and location of death may be listed
The date of refiling for additional benefits based on age and/or service.
Fold3.com
provides a searchable index for the Organizational cards. The searching of both
Ancestry's
General Index and
Fold 3's
Organizational Index will help in trying to determine file numbers on the cards.
Accessing Your Ancestor's Pension Record
Depending on where you live and how many pension files you want to view, a trip to the National Archives and Records Administration (NARA) in Washington, DC may be in order. If you are searching for a multiplicity of records (such as researching a unit), a trip to NARA will be much more cost effective than ordering the files. Figure in transportation, lodging, meals, parking, and incidentals for your trip. I will detail what you can expect at NARA in a future post.
If you only desire a few pension files, you can order these direct from NARA. They offer two plans: the pension documents packet for $25.00 and the complete pension file (up to 100 pages) for $75.00. If you order the complete pension file and it is in excess of 100 pages, NARA will send you the first 100 pages and an invoice for the remaining pages. It is up to you to order the remainder of the file if you desire. From my experience, the larger files generally date from 1890 to 1900. Of the 500 pensions I've perused, only a small percentage of these files would have been over 100 pages.
While the complete pension – is as it sounds – complete, the pension document packet includes the following (which are also part of the complete file): a declaration of pension, a declaration of widow's pension (if there is one), statement of service, questionnaires; "Pension Dropped" cards; and marriage, death, and discharge certificates. For many genealogists, the pension documents packet will provide a sufficient number of documents that will provide genealogical data.
The complete file will include additional documentation including testimony from the soldier, physicians, neighbors, fellow veterans, and family members. In one pension file that I viewed, the testimony from the soldier, his estranged wife, and his oldest son documented family troubles that existed for over twenty years. The file was quite interesting as it painted a very descriptive picture of this dysfunctional family. Other complete pensions will have photos, war time letters, certificates, and a host of other documentation.
These can be ordered via mail or online from
Archives.gov
. Credit card orders will receive priority attention. You should expect a turnaround time of four to eight weeks depending upon the demand at the time.
File Numbers
When ordering the files in person or online, you will be required to provide as much detail from the index cards including all of the veteran's units and all of the card's file numbers. These include the application and certificate numbers. Rejected pension applications will have only an application number. NARA desires all file numbers, although the pension file will be cataloged under the most recent certificate number. If no certificate number exists for the file, the pension will be stored under the most recent application number.
It is important that you list all numbers on the card. In the event of seven digit file numbers, you must check for newer file numbers listed on the bottom of the General Index cards (these are not found on the Organizational Index cards). Typically, the numbers start with C, XC, or IC. This was a new cataloging of active files in the early twentieth century to distinguish active pensions from those that were retired due to the pensioner's death.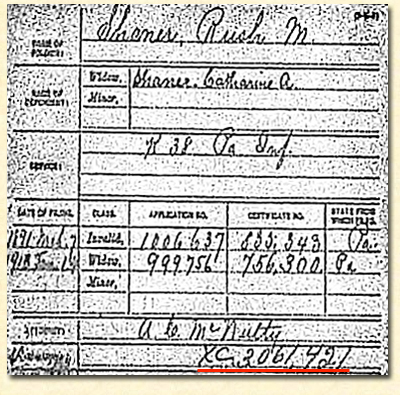 Rush M. Shaner's General Index card with newer index number
These numbers must be present on your request for the file. If not present when presenting your request slip at NARA, your desired file will not be returned and you will receive notification that the file cannot be found. For paying customers at a distance, the lack of the newer numbers will delay your processing as it will require the staff to research your documents.
Files not Found
In addition to NARA not being able to find files without the C, XC, or IC numbers, there are other situations where a file appears to be missing. This may occur because your numbers for the pension were incorrect and those file numbers related to another soldier. This can happen from our own sloppy transcription of the cards or not being able to discern the hand written numbers. The number seven may appear on the cards as being #1.
The file may have been misfiled and the clerk couldn't find it. The file may have been removed for another patron or for microfilming and it is temporarily unavailable. Some of these complete pension files have been microfilmed and some are completely digitized and are available online at
Fold3.com
. These files are removed from circulation during these times.
There is an additional reason the files may have been removed. This usually only refers to active pension files dating from the 1930s and onward. Because the jurisdiction of the pension office was transferred to the Veterans Administration, several pension files were removed from the National Archives and now are in the custody of the Veteran's Administration. To get access to these records, a request must be made to the Veteran's Administration.
Lastly, I have chalked up a final reason for a file not being found – laziness or a lack of attention to detail by some NARA clerks. A file may be misfiled one or two slots over from its intended location. Some staff members will check around the intended number's file location, while others will not. I tested this once as I received a rejection slip on one file that should have been present (I had seen this same file on a previous visit). The rejection slip said that the file was not found within NARA's holdings. I requested the very same file the next day and it was delivered to the document room for me to study.
The Genealogical Importance of Civil War Pensions
I have used pension documents to fill in the gaps of my family history. While my great grandmother's first and last name was misreported to me by family, I found her actual first and maiden names in my great-grandfather's pension. With other soldiers' files, I learned important dates of birth of family members, the dates and places of marriage, health issues, and much more. You may be able to deduce the psychohistory of your own family because of documentation found in these files. Good luck in your search and happy hunting.